"SUPER INTERFLEX" Safety Floors!
Having an adequate and appropriate playground surface and maintaining it properly are the most important things a playground owner/operator can do to minimize the severity of playground injuries.
[read more]
Falls from playground equipment are the most frequent type of injury to children on playgrounds and head injuries are the most frequent cause of death in playground equipment-related falls. The use of shock-absorbent floor systems is specifically required in accordance with EN 1177. This standard requires shock-absorbent flooring for a fall height of 60 cm or more.
[/read]
The suitability of impact protection flooring must be documented by a test certificate, whereby the critical fall height is demonstrated by means of the HIC method.
[read more]
HIC, which stands for Head Injury Criteria, is an international parameter for the severity of head injuries. Critical height is defined as "…the maximum fall height from which a life threatening head injury would not be expected to occur."
[/read]
The critical fall height properties of a playground surface must provide comfort that no head injuries with permanent damage can be expected. It is important to remember: the lower the HIC value, the higher the protection for the child's head.
[read more]
The purpose of critical height ratings is to approximate the maximum fall height that would not result in a life threatening head injury.
Critical height is determined by a combined measurement of acceleration (shock) of an impact and the duration of the impact as it relates to head injury. The shock or force of the impact is measured in "g's" which is the acceleration due to gravity.
The testing for critical height is typically done in a laboratory, however, testing may also be done in the field.
[/read]
The advantages of SUPER INTERFLEX safety rubber tiles
are used as fall-impact protection surfacing in conformance with EN 1177:2018, EN 1176:2017 for fall heights up to 3,0m under outdoor playground equipment.
All SUPER INTERFLEX safety tiles are tested in accordance with EN 1177:2018 to determine the HIC value.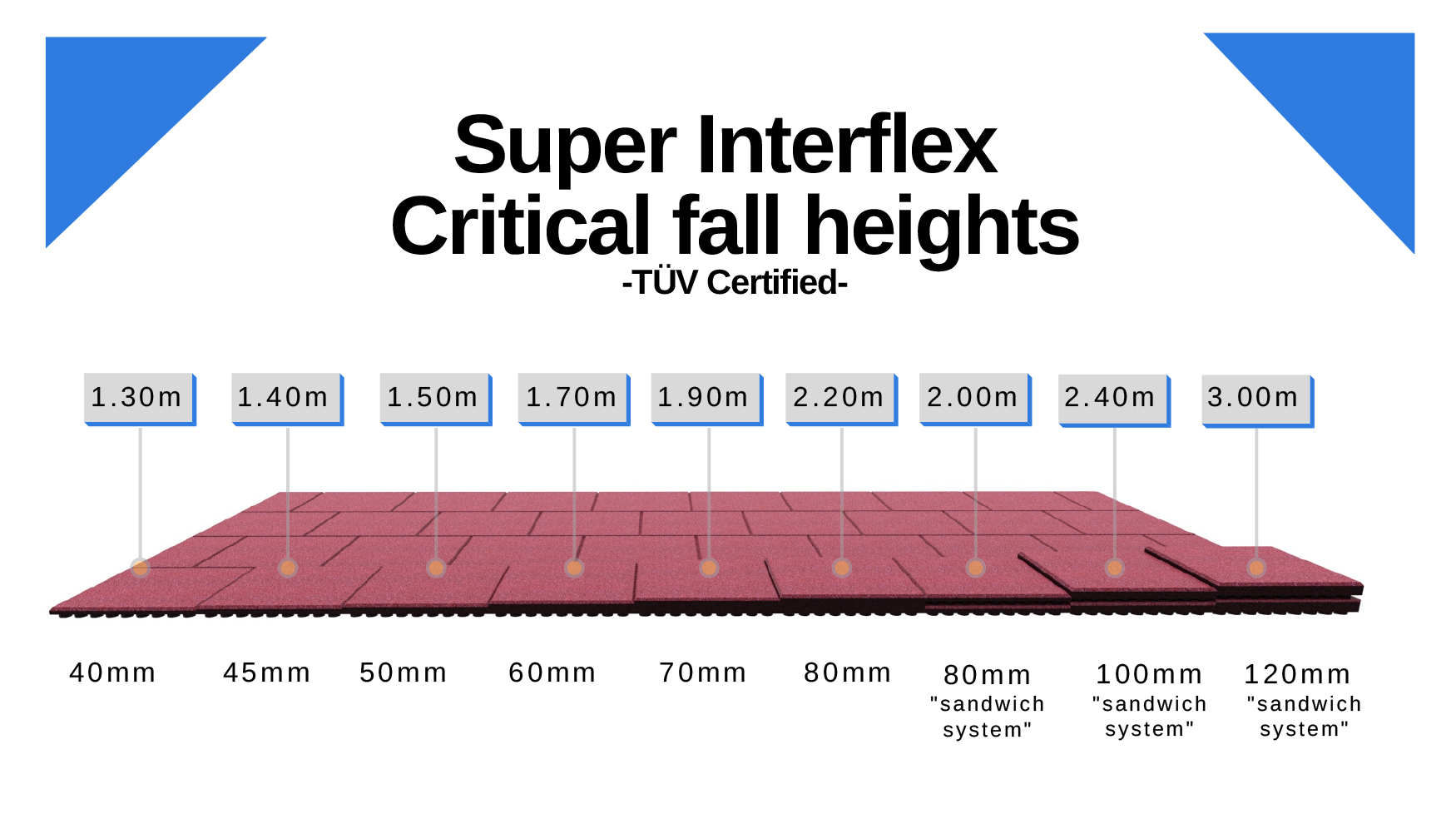 Providing excellent dimensional stability due to integrated connector pins and interlocking masonry-style installation SUPER INTERFLEX safety tiles are manufactured by an environment-friendly process and can be recycled as process raw material at the end of their service life.
They can be played on under any weather conditions.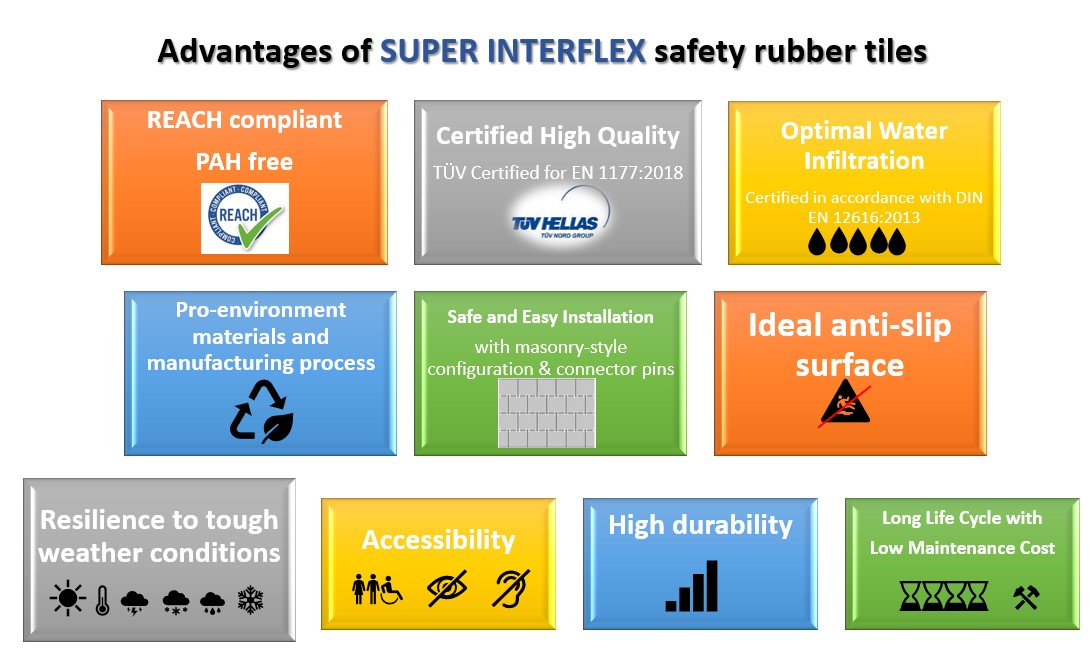 Technical specifications
Super Interflex EPDM, is a styrene-butadiene based synthetic rubber safety tile, with an EPDM coating. A general description of the main product characteristics is given in the following table: